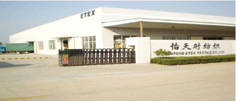 """"Our company is established in 2001£¬Including Jiangsu ETEX Textile Corp. and Nantong Etex Textile Co.,Ltd.
""""Nantong Etex Textile Co.,Ltd is a foreign-oriented production enterprise integrating weaving, bleaching, dyeing, and printing. It mainly produces various handkerchiefs, facecloth, bath towels, pajamas, twistless spinning products, and bedding of plain color, yarn-dyed, bleaching, printing, embroidery, cut pile, helical satin etc.The products cover top grade, middle grade and low grade consumption levels.
""""Jiangsu ETEX Textile Corp. is approved to be engage in foreign trade directly by the State Ministry of Foreign Trade and Economic Cooperation. mainly manages the export of household textiles, such as towel, sheet, garment... Rely on good credit standing, knight sarvice, reliable quality, our company develops rapidly. The revenue in foreign exchange is increased progressively year by year. Clients spread all over, such as Japan, Australia, European area...
Our company is developing towards industrialization and collectivization, forming foreign trade pattern that from design to produce, improves the export capacity and international competitiveness of product development progressively.